---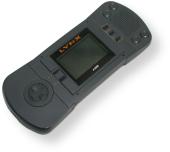 Atari Lynx System

The Atari Lynx was the world's first color handheld portable videogame system. Released in 1989, the Lynx offered multi-player functionality, 3D graphic capabilities, reversible controls, and a backlit color LCD screen. The Lynx features a strong library of games and technical abilities beyond that of its contemporaries. Unfortunately, the Lynx was ultimately unsuccessful due to Atari's inability to persuade developers to write enough high profile games for the system.

The Lynx was originally conceived by engineers at Epyx in 1987, where it was called the Handy. Dave Needle and R.J. Mical, two of the Handy's creators, were also members of the original Amiga design team. Epyx first showed the system to industry insiders at the Winter CES in January of 1989, and the audience was impressed. However, Epyx ran into financial problems and it became apparent that they would not be able to produce the Handy on their own. They needed to find a partner, and sent out invitations to several potential candidates. One of the invitees was Nintendo, who passed on the project. Another invitee was Atari, who was eager to reassert their market dominance of the early 80's. Atari and Epyx reached an agreement where Atari would handle the production and marketing of the system, and Epyx would handle the software development. Atari subsequently showed the system off to the press at the Summer 1989 CES with the working title Portable Color Entertainment System.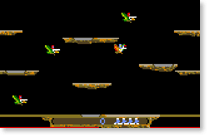 Joust by Williams
Also announced in 1989 was the Nintendo GameBoy. Comparisons were quickly drawn between the two: the Lynx had more powerful hardware and a backlit color screen, but the GameBoy was lighter, smaller, and used less battery power. The Lynx was also set to retail at $199 versus Nintendo's cheaper $109 GameBoy. Towards the end of the year, Atari finally released the Lynx in limited quantities, but not enough to prevent shortages around the country. The GameBoy was readily available and quickly became the holiday winner. The Lynx would have to wait until next year to challenge the GameBoy.
1990 saw only moderate success for the Lynx. For $199, gamers received a deluxe package that consisted of the system, a carrying case, a ComLynx cable, an AC adaptor, and California Games. Unfortunately Atari didn't have any killer-app titles to go with their system, and Nintendo continued to gain market share with popular licenses from their NES console. Atari also had a poor reputation with retailers at this point, and some simply declined to carry the Lynx. However Atari stepped up its marketing campaign, and 1991 saw much improved sales over the previous year. Later in the year, Atari offered another package - for $99 gamers could buy a Lynx without accessories. This helped to boost Lynx sales again, but they were still losing badly to Nintendo.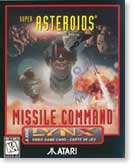 Super Asteroids/Missile Command

In May of 1991, Sega released the Game Gear to the detriment of Lynx sales. The Lynx was no longer the only color portable on the market, and Sega had more marquee titles scheduled for their system. Eventually the Lynx was squeezed out of the picture and the handheld market was dominated by the Nintendo GameBoy with the Sega Game Gear a distant second.

Although it ultimately failed to reach its commercial goals, the Lynx has some fantastic games in its library. There are accurate arcade translations such as Joust, Rampart, and Klax. Quality original titles such as Chip's Challenge, Warbirds, and Gates of Zendocon showed what the Lynx was capable of. Unfortunately Atari could not attract enough third party developers to continue supporting the Lynx, and by 1993 they ceased marketing it and focused on their new console, the Jaguar.

Today, there is still a thriving Lynx community. Fans and collectors still play and discuss the system, and developers such as Songbird are releasing new games as well as completing unfinished games from Atari's past. Most Lynx games and the system can be found for a reasonable price, so if you want to see what you missed out on it won't set you back too much. For a taste of what the Lynx can do, download the Handy emulator and some game ROMs and play them on your PC.



- Processor: two 16-bit custom CMOS chips running at 16MHz
- Memory: 64K RAM
- Sound: 4 channel sound 8-bit DAC for each channel
- Color: 4096 color palette, 16 simultaneous colors from palette per scan line
- Resolution: 160 x 102 (16,320 addressable pixels)
- Screen Size: 3.5" diagonal (approximately 3.25" x 1.88")