Atari Jaguar Catalogs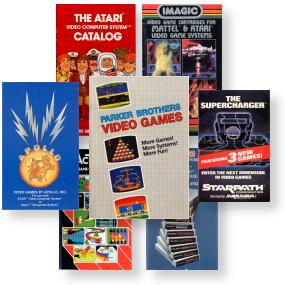 Back in the heyday of the Atari 2600, most reasonably-sized game companies produced catalogs to promote their games. It seems this is a lost art, as companies rarely package in catalogs with console games these days. But back in the early 80s it was always a blast looking through the latest Atari catalog to see what new games you could convince (beg) your parents to buy for you. As the largest producer of games for their systems, Atari also produced the greatest number of catalogs. And, in our opinion, the greatest catalogs. Atari's catalogs were filled with wonderful art that made them a joy to leaf through. And their catalogs could take a while to browse since some of them were quite large. Activision also produced a good number of catalogs, from their early days as the first third-party publisher with only six titles, to their later times when they were also publishing Imagic titles. Most other third-party companies only produced a single catalog, such as Parker Brothers. It's interesting to note that several third-party catalogs depict games that were never released, whereas Atari and Activision were much better about not picturing vaporware.

We're someday hoping to build a complete library of catalogs. If you have any catalogs that we're missing and wouldn't mind scanning them in, please contact us as we'd love to hear from you!
Atari
Description
Image
Model Number: [none]
Year: 1993
Titles: 8

This appears to be one of Atari's original catalogs for the Jaguar, as it only lists eight games. One of the games pictured, Tiny Toons Adventure, would never be released commercially. This catalog is light on content, with no information about the games pictured except for a single screenshot and the name of the each game. The back page of this catalog features a chart comparing the hardware capabilities of the Jaguar to the 3DO, Super Nintendo, and Genesis. There's also a brief mention of the Jaguar CD peripheral, although with little details and no pictures.
Model Number: [none]
Year: [none]
Titles: 30

This Atari Jaguar catalog was produced by Atari and was probably distributed in retail stores to promote the Jaguar. From the looks of it was probably one of the last Jaguar catalogs created. We say that because there are several titles listed in this catalog that never saw the light of day: Creature Shock, Robinson's Requiem, Demolition Man, Arena Football, Bret Hull Hockey, Hard Ball III, Barkley Basketball, and Space War 2000 (which was recently made available by B&C Computervisions). In total, 30 titles are featured, including several Jaguar CD games. The Jaguar CD itself is featured on the back page. Also mentioned in this catalog is the virtual reality component that was never released. This catalog features a chart comparing the Jaguar with the 3DO, 32X, Super Nintendo and Sega Genesis.
Model Number: [none]
Year: 1994
Titles: 58

This Jaguar catalog is presented in a 16 page 8 1/2" x 11" magazine format, unusual for catalogs produced by Atari (although a Lynx catalog was also released in this same style). While the front page of this catalog boasts "Over 50 New 64-bit Games Previewed!!" a good number of those titles are simply listed on the back page of the catalog as "Coming in 1995". This catalog probably takes the prize as having the largest percentage of games never to be released, with roughly one third of the 58 games listed not making it out the door.

Several games are given an entire page, such as Alien vs. Predator, Doom, Iron Soldier and Tempest 2000. Others must share a page with at most three other titles (not including the back page which features titles coming soon). In addition to descriptions of games, various Jaguar hardware is also detailed. There's even a picture and brief mention of the Jaguar VR Headset, shown as, "Coming Soon!" Backing up Atari's "Do the Math!" campaign is a chart comparing the Jaguar to the 3DO, 32X, Super Nintendo, and Genesis.

Model Number: [none]
Year: 1994
Titles: 55

This is another booklet style Jaguar catalog, but it appears to have originated from Atari Europe. It feature 55 titles, including many titles listed as, "Coming in 1995!" on the back that we're still waiting for. Some of those listed but never released include Creature Shock, Charles Barkley Basketball, Brett Hull Hockey, Hardball III, Dactyl Joust, Jack Nicklaus Cyber Golf, Redemption, Zodiac Fighters, Robinson's Requiem, and Demolition Man, and more. This catalog touts the Jaguar CD, and also pictures some accessories on the back (including a Jaguar SCART cable).
ReadySoft
Description
Image
Model Number: [none]
Year: [none]
Titles: 6

ReadySoft produced one of the few third-party catalogs featuring Atari Jaguar games. This catalog features several Jaguar games, including Brain Dead 13, Dragon's Lair, and Space Ace. It also lists Dragon's Lair II: Time Warp as being for the Jaguar, but this title never saw the light of day. Games and ReadySoft-adorned clothing could be ordered directly from ReadySoft using an order form in the catalog.